In this digital age, high website and application availability are critical to your business success. Customers simply won't tolerate a downed website, slow loading site content or disrupted service. That's why at Mlytics, we're building towards an internet world where complete resilience is the standard.
We're evolving the Mlytics platform to further enhance high-end security features while at the same time simplifying the management thereof, so organizations can easily ensure their services stay online all the time.
With this update, we're completely reinventing the elevation of a sophisticated security suite – Origin Shield, across multiple CDNs, while allowing our users to maintain choice and control on its deployment, coverage, and price.
Let's take a look at what's new this time…
Origin Shield – Going above and beyond WAF
Origin Shield is a sophisticated security suite that is placed in front of the origin, this way it stays protected from L7 attacks. As opposed to traditional WAF or Cloud WAF solutions, which are highly specific, Origin Shield takes a more holistic approach. It includes Cloud WAF (OWASP CRS and customized CRS); web firewall rules, header rules, captcha/JS challenge, user agent blocking rules, rate-limiting rules, rate limiting-header rules, and access control.
Thanks to the nature of Mlytics' core solutions, we're able to take Origin Shield to the next level by leveraging multiple top-tier CDN networks and combining them with Origin Shield security solutions, to fully achieve complete resilience.
In a scenario where a CDN would experience an outage, our Multi CDN solution will direct the traffic to the next best-performing, healthy CDN. Regardless of which CDN was chosen by our smart load balancer, the Origin Shield in front of the origin stays active, providing protection against service disruptions, DDoS and other cyber attacks at any time.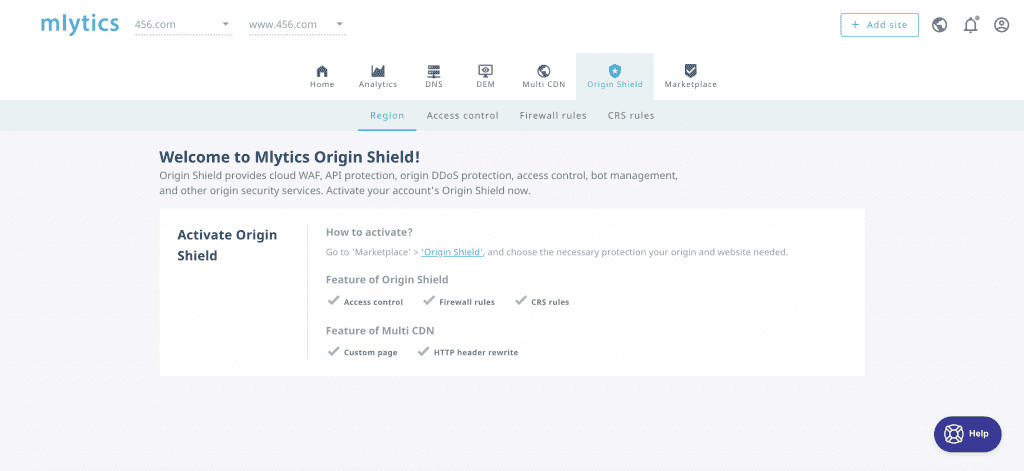 Native Origin Shield deployment across multiple CDNs
Moving forward, Origin Shield can be selected as an add-on from the Mlytics Marketplace, enabling users to deploy this security suite natively across multiple CDNs in a few clicks. We can proudly say that we're the first solution provider around to take out the need for complicated configurations, and simplify the deployment on a Multi CDN architecture.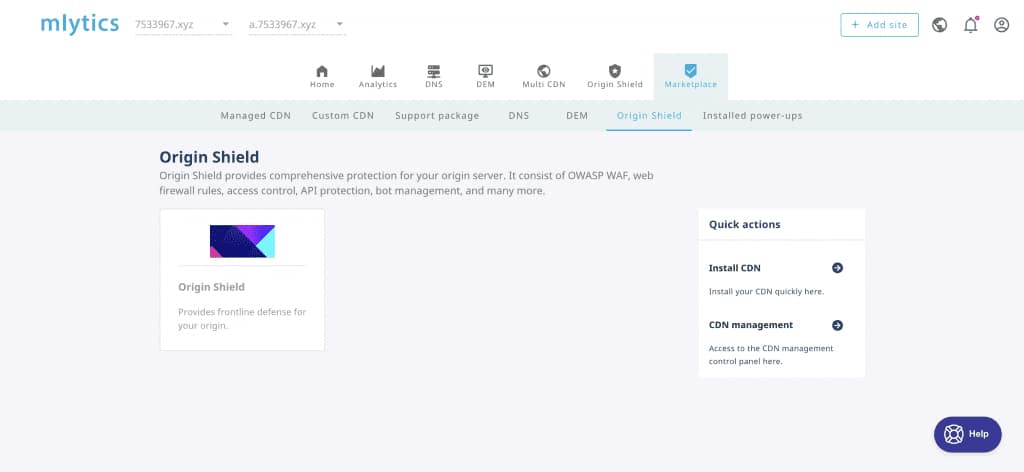 Analytics & Control
In line with our promise to provide our users with transparency, together with the simplification of Origin Shield, we included insightful analytics to easily visualize how Origin Shield effectively mitigates different types of cyber attacks, as well as their sources in real-time. You'll find information on threat statistics, threat logs, country and IP address source, all of which will prove helpful to users to make better informed decisions in terms of keeping their origin secure.
What's more, alongside the charts and graphs with key information, you'll find what we call 'Quick Actions'. These 'Quick actions' guide users to the recommended actions to take (e.g. set routing strategy, avail CDN, avail regional DNS, etc.) based on the analytics.