After a few years of building the most transparent Multi CDN platform for content delivery and digital experience monitoring, we are evolving the Mlytics platform to further increase the level of simplicity when managing multiple CDNs and help teams save time with content delivery and website performance enhancement.
We are building for a whole new era of content delivery management and digital experience monitoring—where people can manage multiple CDNs with the toggle of a switch, and ensure constant uptime, all the time. This is the start of an entirely new Mlytics.
We're rolling out a completely new navigation system, faster accessibility to the Multi CDN solution your organization needs, and a transparent usage-based pricing model. With these new features, you'll be able to set up and manage your content delivery solution at a faster pace, and gain crucial insights in management costs before getting started, and while you're at it.
In short, with the new Mlytics platform you can manage both your time and expenses in an even more effective manner, allowing you to efficiently allocate time and focus on various projects at the same time.
Let's dive into the new Mlytics…
Intuitive navigation with complete platform overhaul
Where the former version of the platform featured a simplified vertical design, the new Mlytics platform comes with a horizontal navigation bar and detailed categories, making it even more intuitive to walk through.
In the blink of an eye you'll be able to seamlessly navigate between Multi CDN, the Mlytics Marketplace, or the Analytics page for your website. Essential notifications and information are easily found when clicking on the Notifications Bell icon, and you can swiftly switch between account, site and domain level settings with the new Operational level control function.
And there is more… Common tasks related to the presented functionalities are displayed in what we call 'Quick Actions' or 'QAx', allowing you to directly perform the necessary actions at any given moment.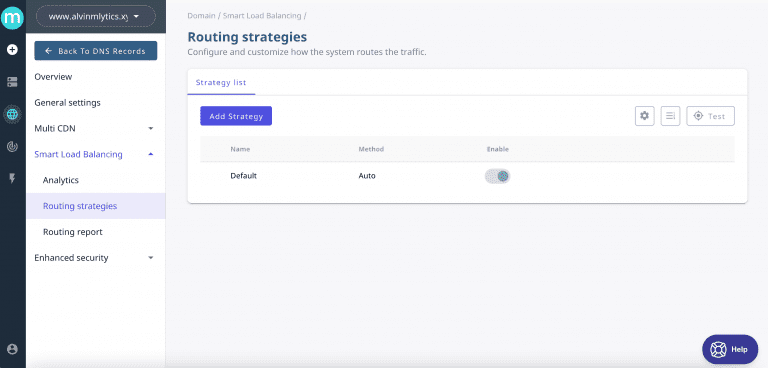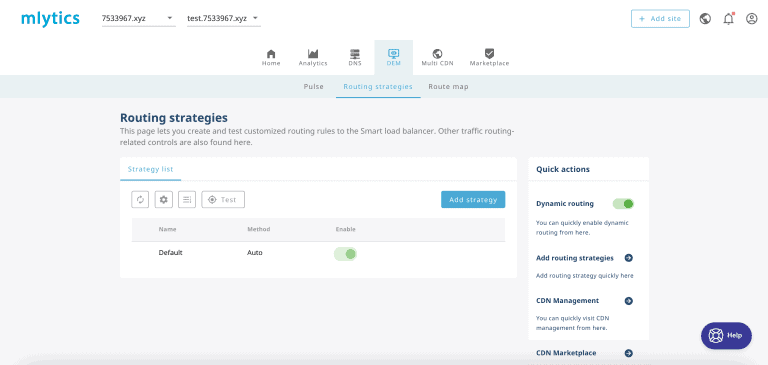 Lightning-fast access to multiple CDNs
If you've gone through the set-up process on our former platform version, you probably remember that before gaining access to multiple CDNs, you were required to configure DNS settings. As setting up DNS configurations may take some time, and experience has taught us that users would like to access Multi CDN immediately, we decided to shake things up a bit.
Now, when getting started with Mlytics, you can immediately review and select the domains you wish to add to the platform and boost with multiple CDNs. And only after that, you are asked to review your DNS records. With enhanced scanning technology, your DNS records results are faster and more complete than ever before.
Accelerating the settings for both your Multi CDN domains and DNS allows you to walk through the on-boarding process at a faster pace, and implement your Multi CDN solution quicker.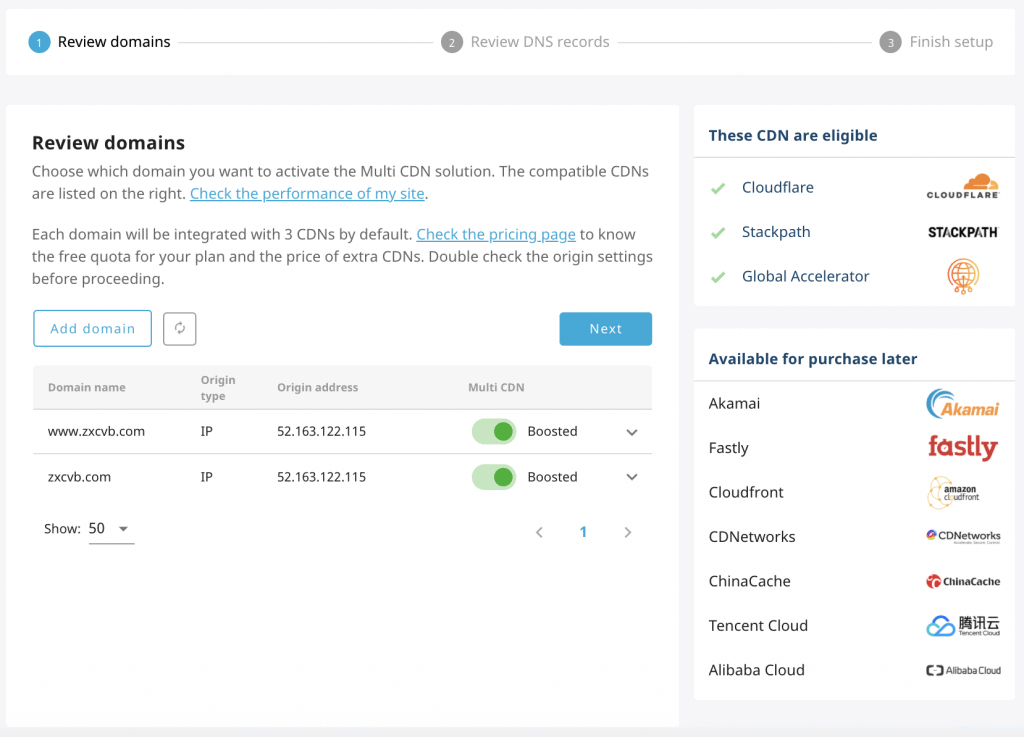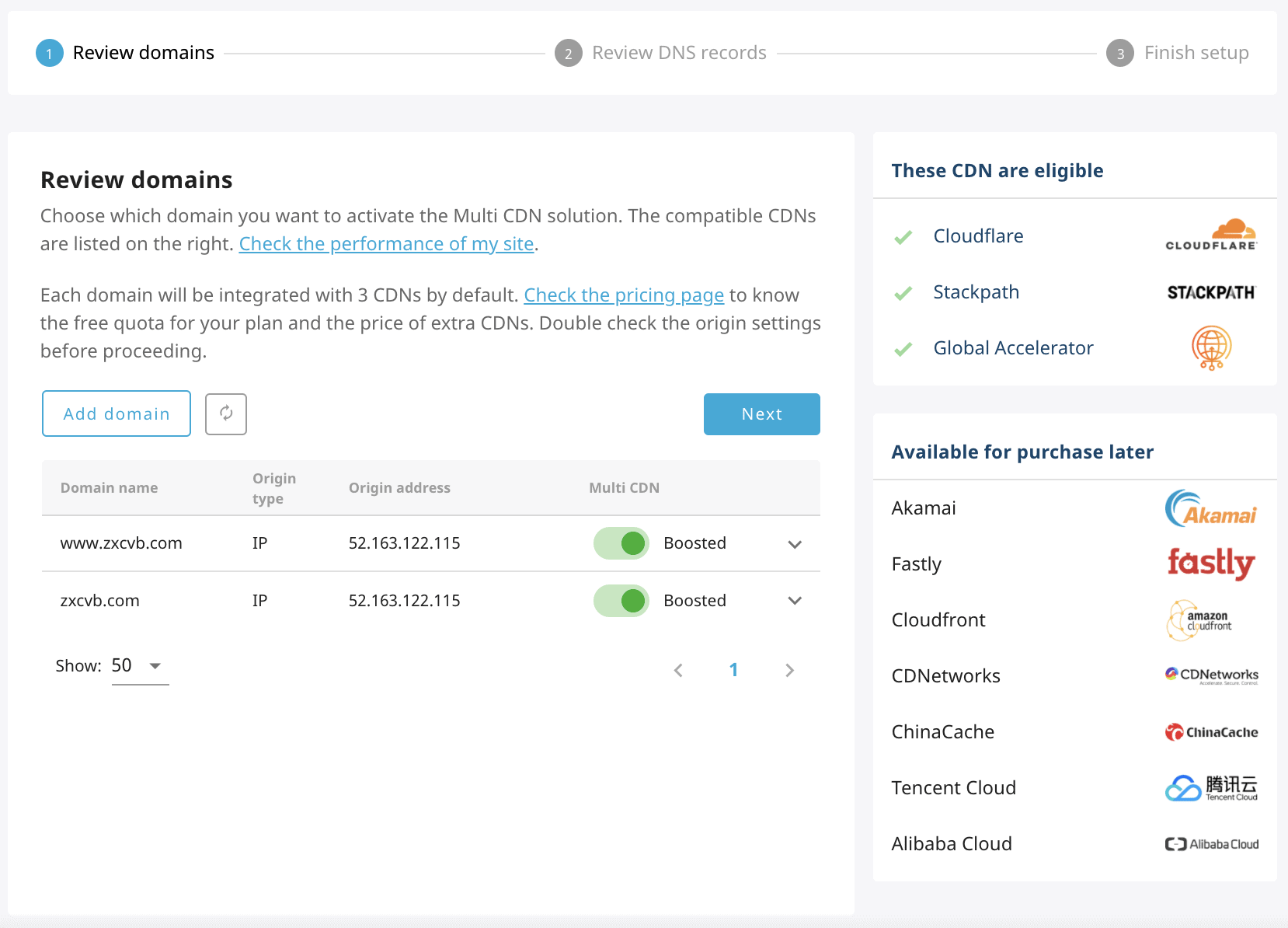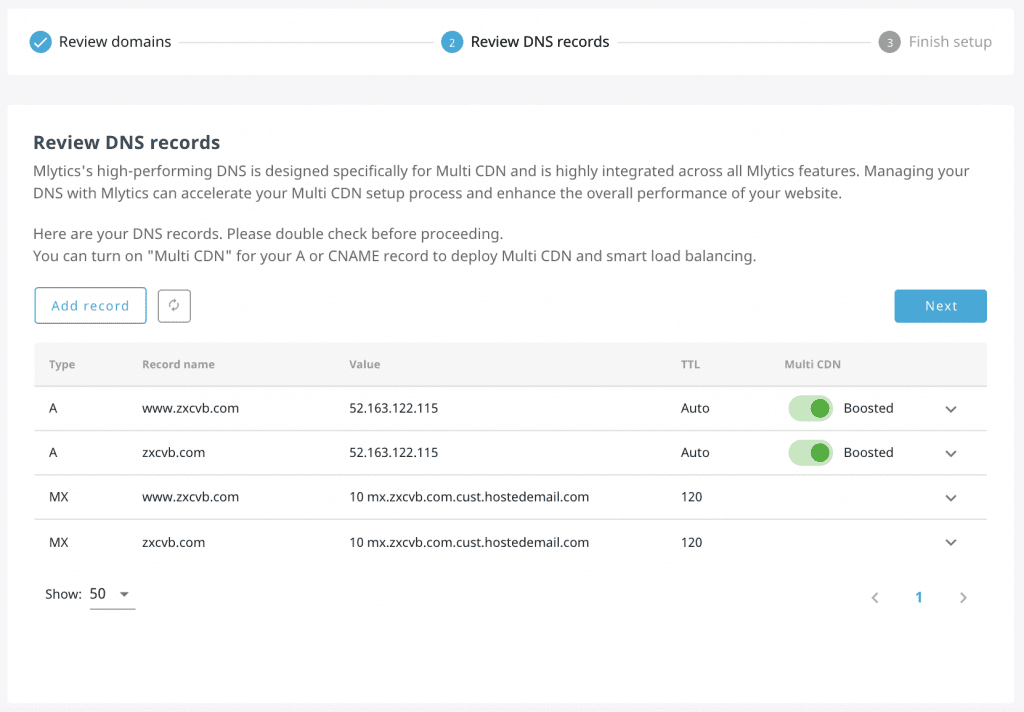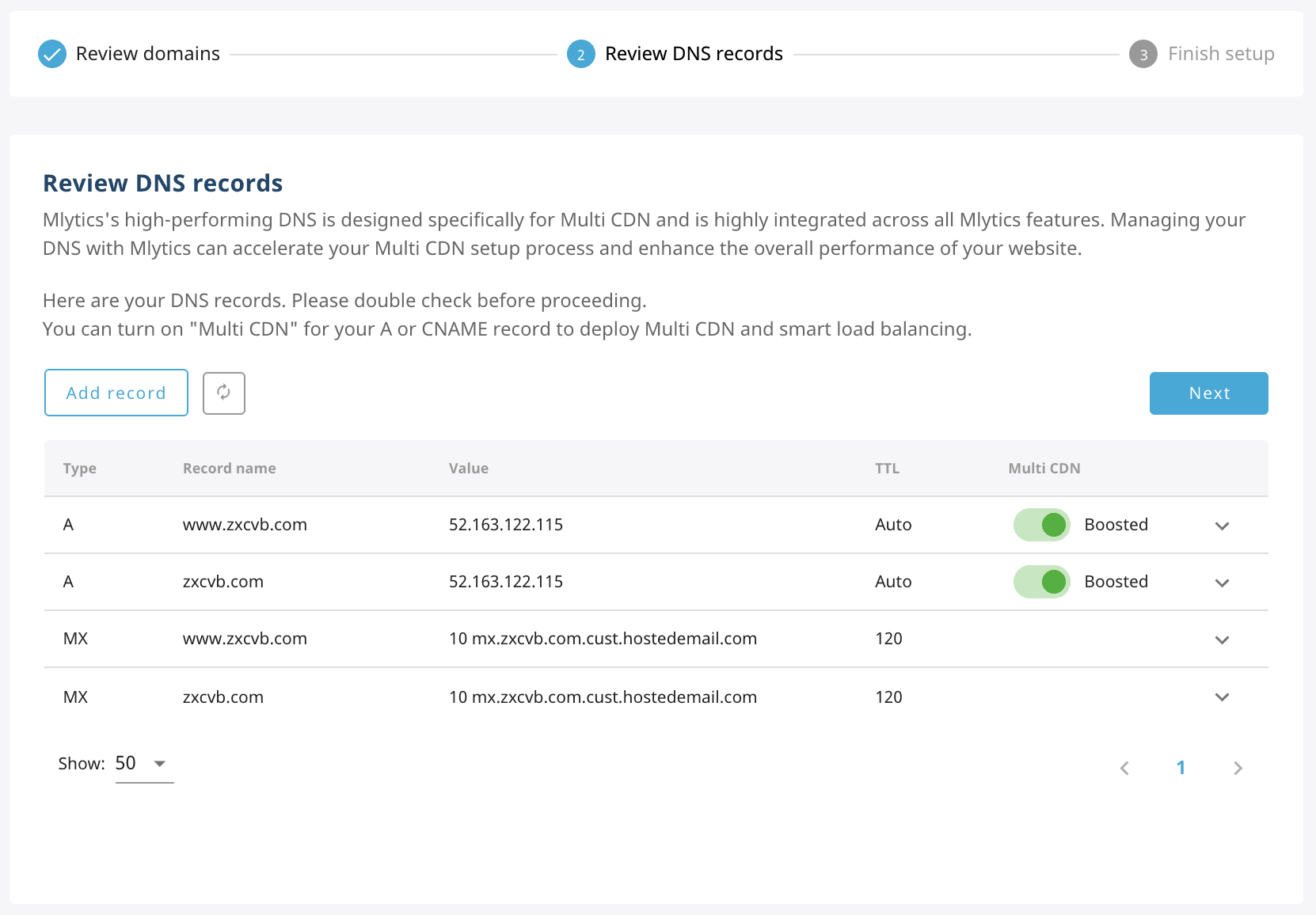 Transparent usage-based pricing model
The first tool is our brand new price calculator. You can calculate the estimated costs of your Multi CDN solution, based on your estimated traffic, the number of domains you plan to integrate, as well as the CDNs you wish to include.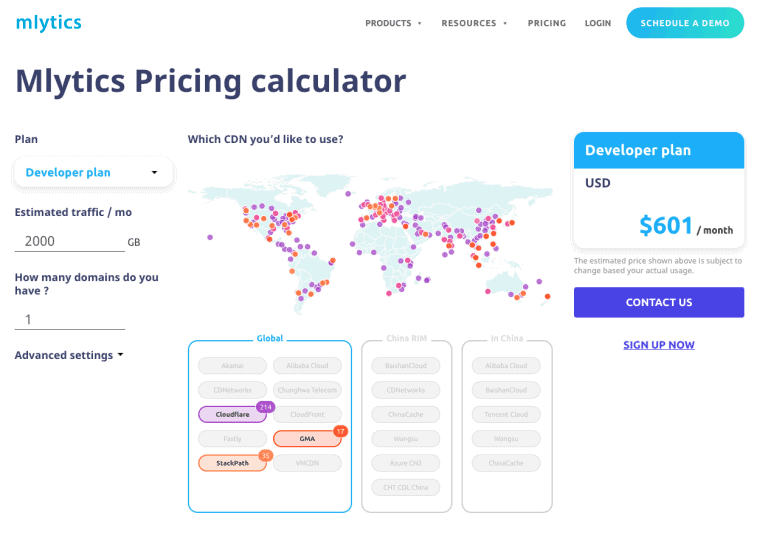 Tool number two is a consumption tracker that shows you exact data for DNS queries, CDN traffic, CDN requests and billing information. These data can be found in the Overview's sidebars on your Account, Site and Domain level.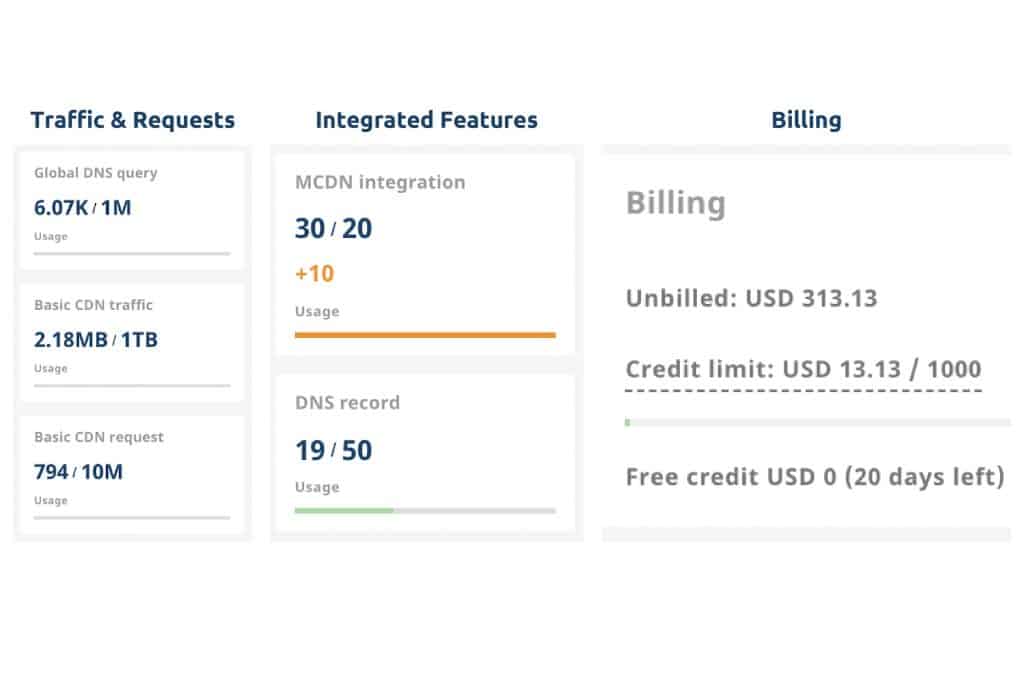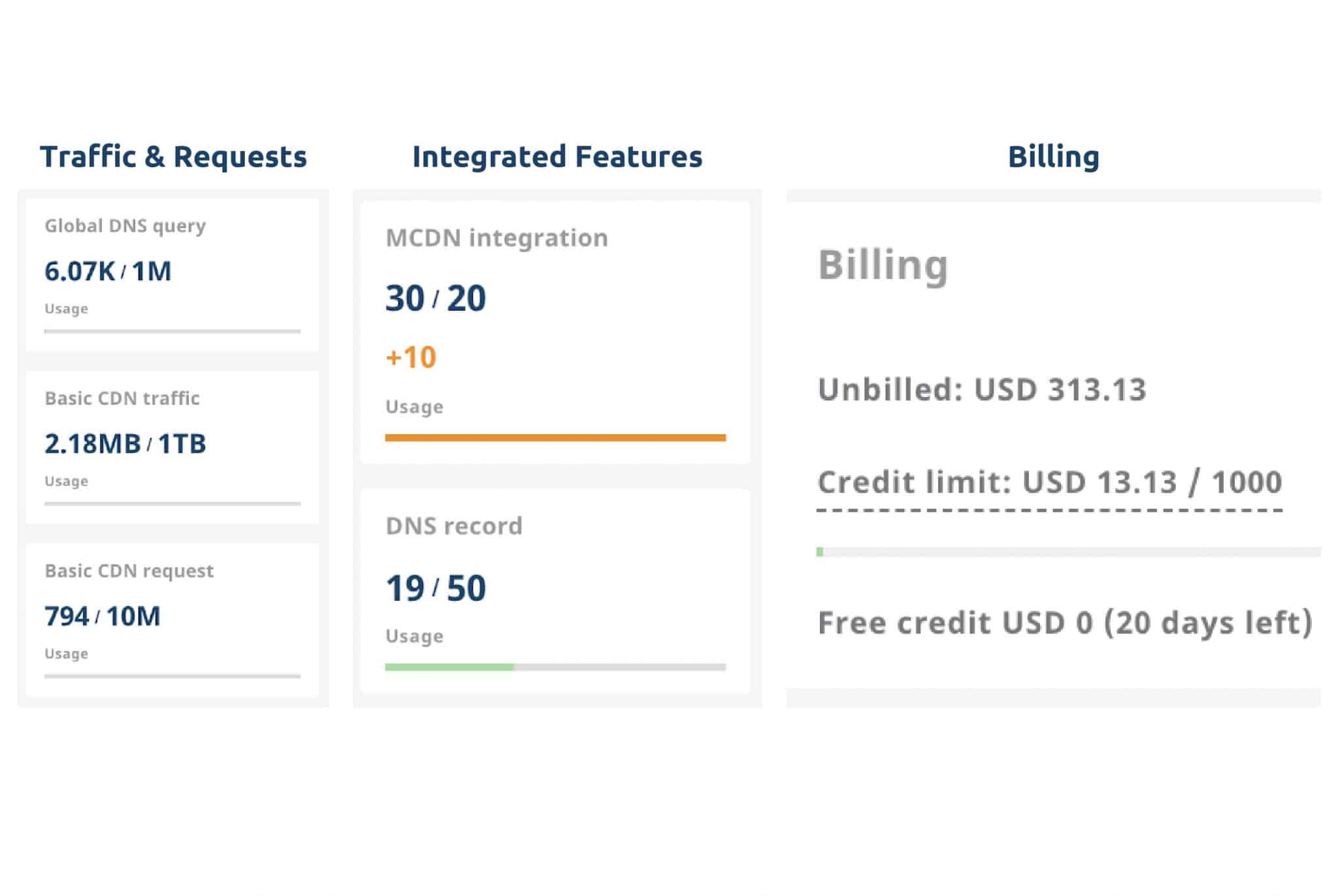 The new Mlytics
Mlytics isn't just another CDN vendor, a cybersecurity solution expert or simply a DNS solution provider; it's your hub to manage everything content delivery and digital experience monitoring-related for your websites. Your clients and customers deserve the best possible user experience, and ensuring consistent, always-on content delivery is essential.
Thank you for putting Mlytics to great use—we're thrilled to be here with you on our side.