Key results
Snap-on's website loading speed stays under 2 seconds for China-based users thanks to Mlytics' China Access solution.
Mlytics' China Rim CDN solution allows Snap-on to save significant time and effort due to non-necessity to apply for an ICP License.
About Snap-on
Snap-on is a US-based designer, manufacturer and marketer of high-end tools and equipment for professional use in the automotive, heavy duty, equipment, marine, aviation, and railroad industries.
Challenge: Accelerate website response & loading times for China-based website visitors
Snap-on is a leading player in transportation equipment manufacturing with a vast global distribution network. As an American organization, Snap-on's origin server is located in the US, enabling them to seamlessly deliver content to the majority of their customers worldwide. However, this is not the case for Snap-on's China-based clientele : due to the large distance between the two continents, in China the Snap-on website takes up to 3 seconds to load, often resulting in unsatisfied website visitors.
Snap-on's pain points:
Slow website loading speed : Despite its significant presence in China, Snap-on's website isn't optimized for Chinese web visitors. Due to the origin server's location, site loading times take up to 3 seconds in China.
Content delivery restrictions : Currently Snap-on doesn't hold an ICP License, directly limiting their content delivery options within the Chinese boundaries, as they're unable to host their website locally.
Limited experience with CDN : Due to limited experience with CDN, Snap-on faces various content delivery-related challenges, especially in China given the nature of its internet infrastructure.
Mlytics offers a fast and flexible China Rim CDN solution
Benefits to Snap-on
Flexible China Rim CDN solution: Select multiple trusted China Rim CDNs based on your needs and the unavailability of an ICP license.
Affordable Multi-CDN solution: Access multiple top-tier CDNs at the traffic commitment of only one. Traffic commitment may be divided over multiple CDNs.
Enhanced performance via smart load balancing: Leverage the Mlytics Smart Load Balancing solution to ensure the best possible user experience as traffic is routed to the best-performing CDN at any given time.
Solution integration
Mlytics suggested implementing a global Multi-CDN solution, with a focus on China Rim CDNs given the unavailability of an ICP License. We ran a POC test between October 24 and 31, 2020 deploying the below CDNs, settings and features.
For this particular case, Cloudfront, Wangsu, ChinaCache and CN2 Jupiter CDNs were selected. The former 3 are public CDNs, while CN2 – Mlytics' China Premium Network, is a private CDN platform developed by Mlytics and partners. Given its private nature, the route of CN2 Jupiter is exclusive and behaves differently from the other public CDNs. Therefore, it is prone to significantly enhance the user experience for users in China.
In addition to the selection of CDN providers, the following features were deployed : CNAME flattening to speed up the time of DNS resolution, and content compression to compress js, html, css, xml, json, shtml, and htm across all CDNs, to ensure reduced traffic times.
Lastly, by default the Multi CDN solution is combined with our Smart Load Balancing solution, ensuring that the best-performing CDN is selected at any given time.
Performance analysis
Performance monitoring using Mlytics Pulse
Mlytics Pulse is an interactive chart that shows latency and availability data of all CDNs deployed. To generate the chart, Mlytics has set up 170 private nodes and consistently collects performance data every five minutes.
The images below show the status of each configured CDN during the POC stage on October 25th, suggesting that CN2 Jupiter is the best-performing CDN at the time.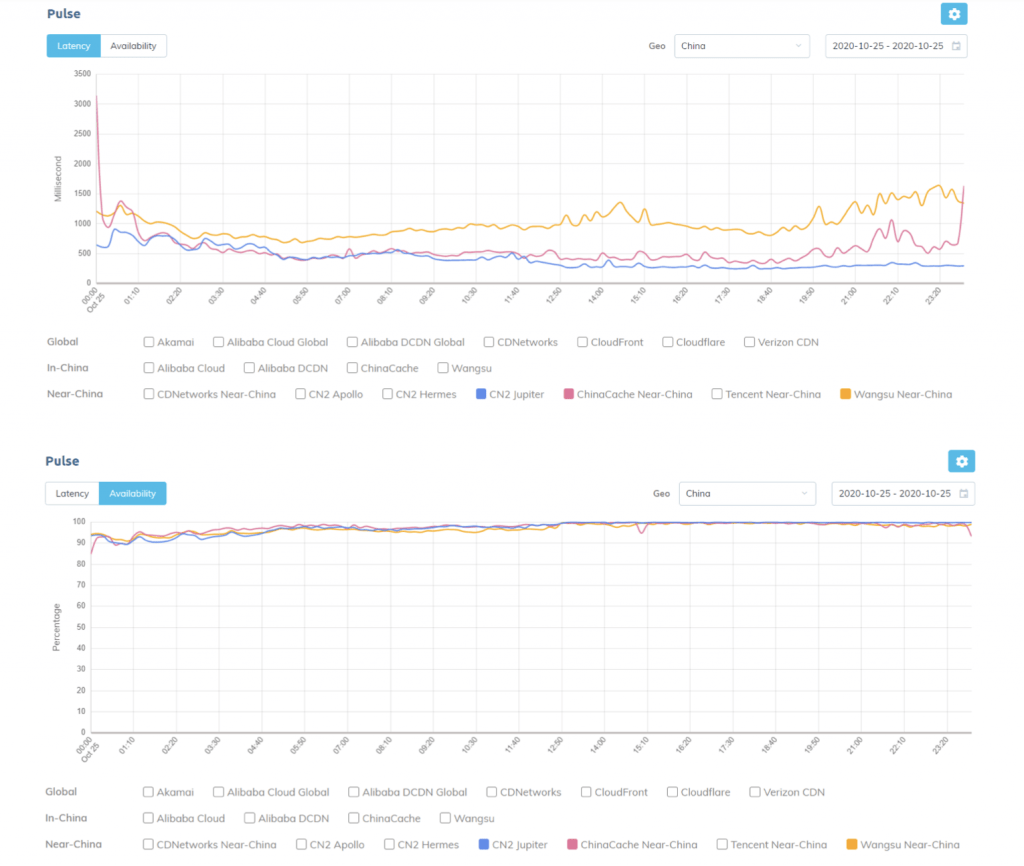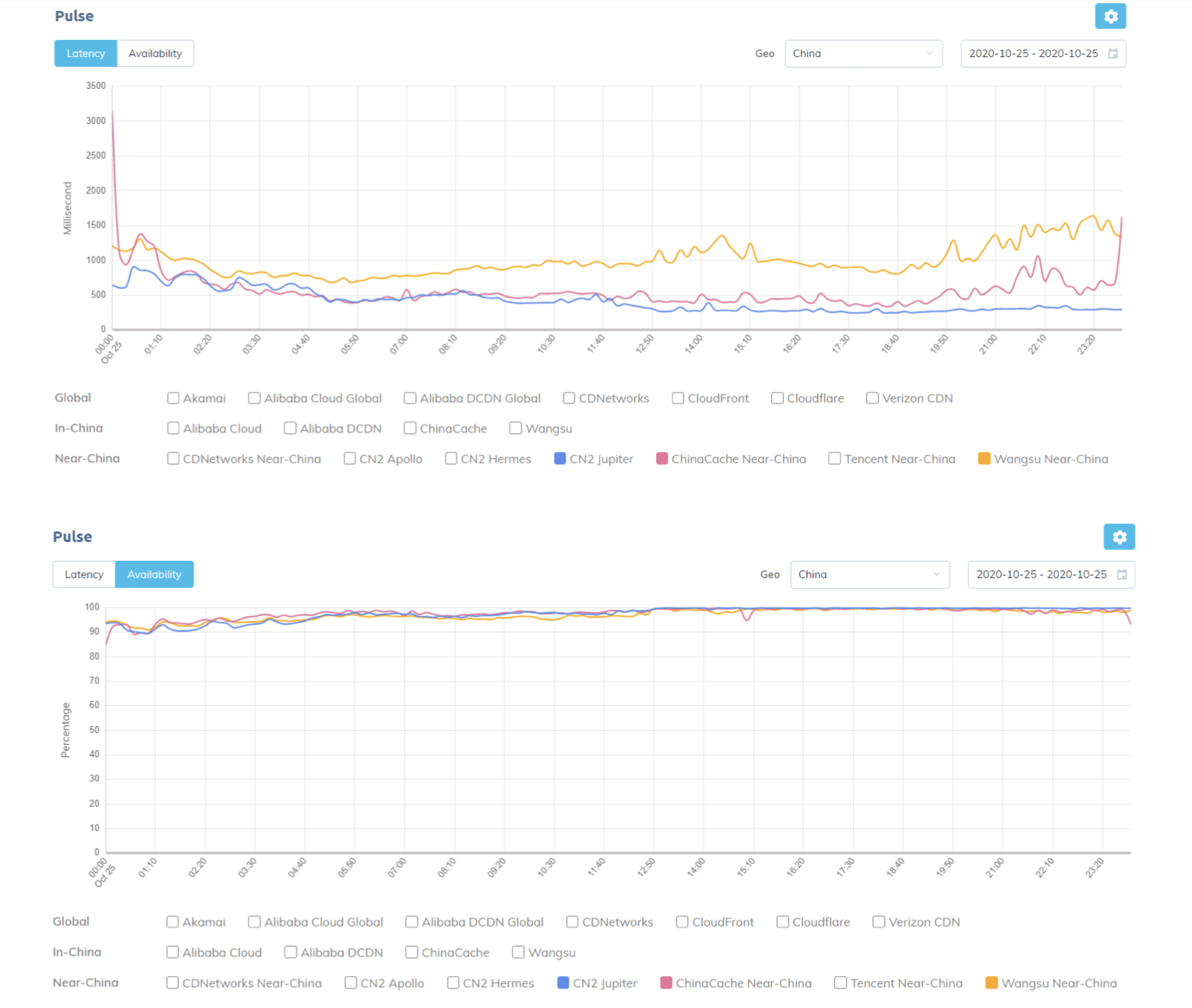 CDN performance monitoring
The below chart displays the performance trend of all deployed CDNs and the decisions made by the Smart Load Balancing solution.
As stated on the chart, CN2 Jupiter is the most frequently selected CDN throughout the POC stage, which proves the outstanding performance of this CDN.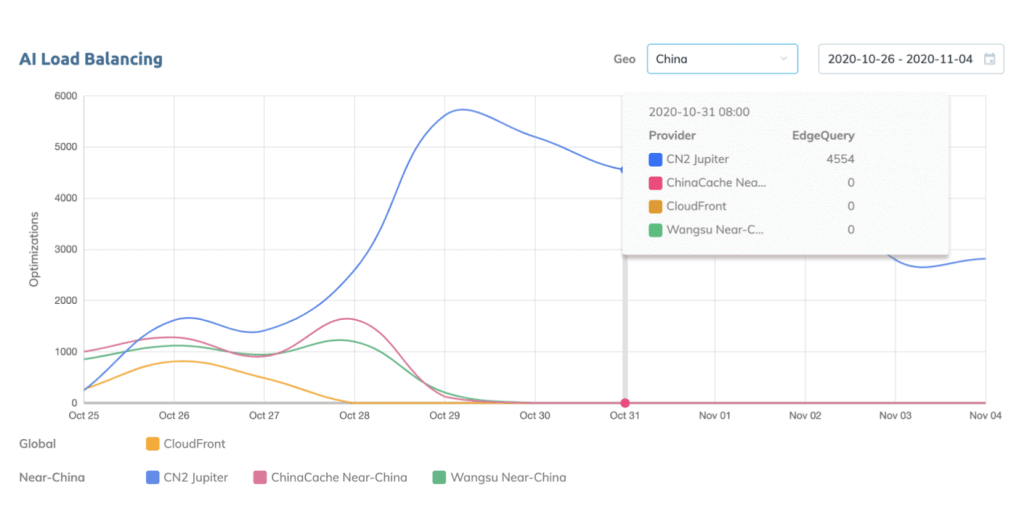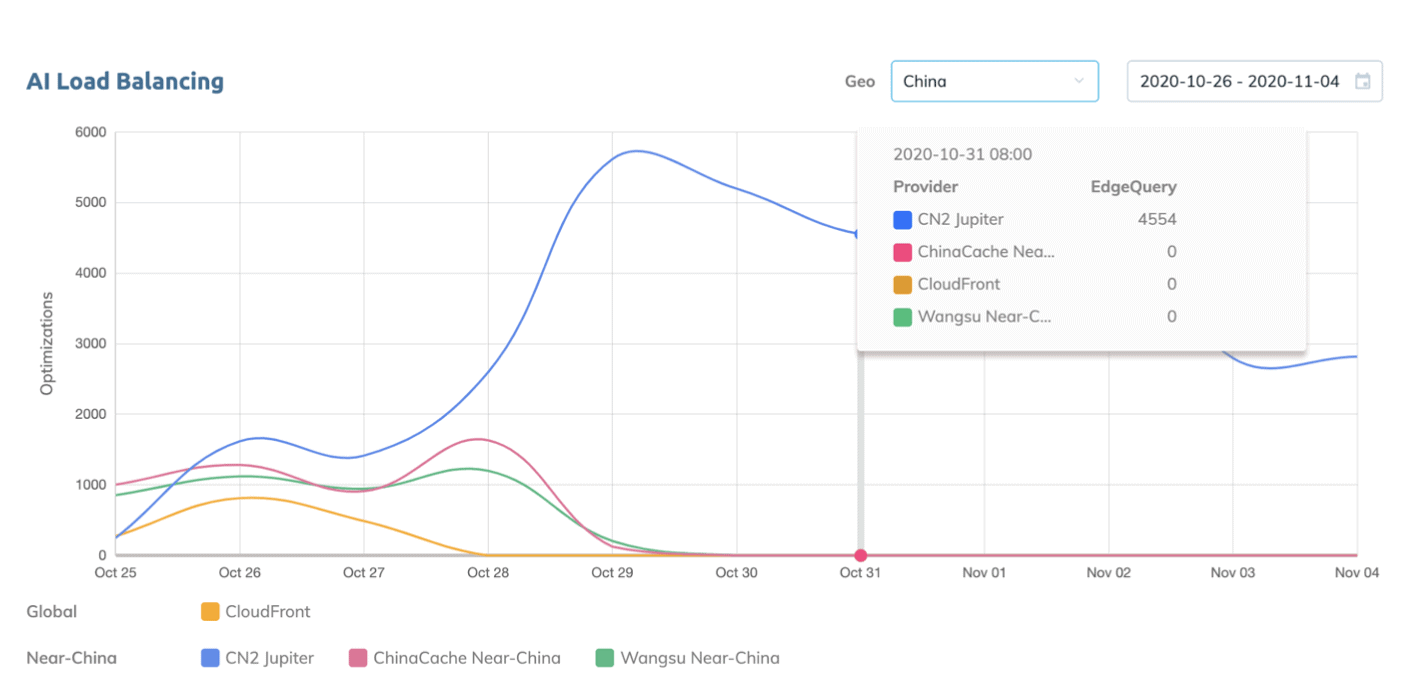 Solution outcome
As the test results of the POC stage show, page load times accelerated from up to 3 seconds to less than 2, which is an average increase of 30%. As a result, waiting times shortened, directly benefiting user experience and satisfaction.