Key results
Mlytics services allowed NOWnews's page views to increase 50% in only 3 months.
Mlytics granted NOWnews access to multiple trusted CDN providers without breaking the bank.
Mlytics enabled NOWnews to quickly configure hundreds of cache rules directly on its one-stop platform.
About NOWnews
NOWnews is one of the largest digital media platforms in Taiwan, covering a plethora of topics and the latest news for millions of readers daily.
Receiving more than 15 million website hits per day, for NOWnews, a highly-performant and secure website are essential to ensure customer satisfaction.
Challenge: Upgrade to a Multi CDN solution without increasing cost and jeopardizing site security and traffic
Early 2020, NOWnews optimized their official website. After this revision, the page weight of the website was greatly reduced, resulting in improved user experience. Although the amount of used traffic significantly dropped, NOWnews still needed to adhere to the annual commitment fees stated in the agreement with their CDN provider.
As their situation changed, NOWnews started looking for a backup CDN solution. Throughout their search, NOWnews encountered the following obstacles : overall cost, the need of crawling program protection, different Cache Rule settings for each NOWnews subsite, and the difficulty of managing multiple CDNs.
NOWnews's challenges
Budget management : Regardless of the actual amount of traffic, CDN services typically require users to agree to a minimum traffic commitment sealed by an annual contract. During the term of the contract agreement a fixed fee applies.
Cache rule and SSL certificate management : Whether you're relying on manual or API management, administering cache rules and SSL certificates can be a daunting task, especially when working with multiple CDN providers.
Security management : NOWnews owns hundreds of subsites, often with different black-and whitelisting configurations. In addition, crawler and DDoS protection are necessary features. It is quite challenging to find a solution that offers all of the above at a reasonable price point.
Site traffic : Since daily traffic is crucial for a media platform like NOWnews, it is essential to not affect site traffic while enhancing the CDN solution.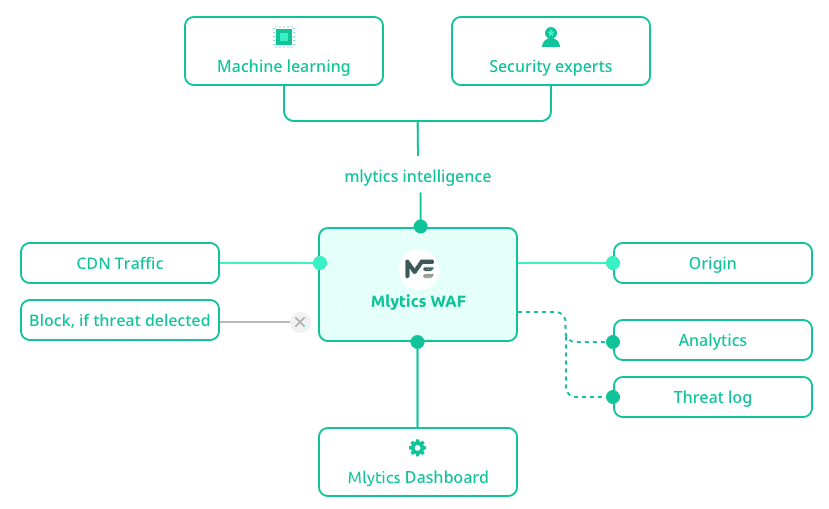 Mlytics offers a fast, flexible and affordable one-stop Multi CDN solution
Benefits to NOWnews
Affordable flexibility : Select multiple trusted CDNs based on your needs, all in one price plan.
Simple one-station control : Manage and synchronize the cache rules of multiple different CDNs and automatically renew SSL certificates from one intuitive platform.
Fast deployment : In only thirty minutes you can fully configure global protection including DDoS mitigation against attacks from Layer 3/4 and Layer 7, crawler protection, as well as black -and white listing.
Solution Integration
The first challenge Mlytics faced was the DNS migration. NOWnews was relying on their service provider for both CDN and DNS services. Hence, to ensure that current websites weren't impacted, Mlytics had to carefully consider the possible impact of the contract termination between NOWnews and its previous service provider.
The service transfer consisted of three stages :
DNS Migration
CDN Integration
Security strategy deployment
During the DNS migration stage, considering NOWnews' target audience is mainly located in Taiwan, with only a slight global presence, Mlytics decided to use Google DNS as the new DNS provider. Mlytics strategically opted to process the DNS transfer late at night when the traffic was relatively low, thereby reducing the risk to a bare minimum.
At the time of CDN integration, Mlytics put its Multi CDN Marketplace to good use. The platform integrates multiple trusted CDNs, available for NOWnews to activate and manage the CDNs they deem fit. Access to the marketplace increased the level of convenience for NOWnews when managing their Multi CDN solution. At the same time, it eliminated the possible shortcomings of a single CDN solution, as the best-performing CDN was chosen at any given time, thanks to Mlytics' self-developed Smart Load balancing feature. In addition, as Mlytics was familiar with the characteristics, threats and challenges of this type of content provider, Mlytics was able to make suggestions for cache rules and assisted NOWnews in setting up hundreds of cache rules directly on the Mlytics platform.
As for the security strategy deployment, thanks to the WAF solution embedded in the Mlytics platform, by default different network attacks were handled at different times: Common custom IP and country black/white lists were set up, CR (Challenge and Response) botnet DDoS attacks were blocked and the seventh layer filters was protected intelligently thanks to different conditions and patterns.
To conclude, we efficiently dealt with the possible impact on traffic and page views after changing CDN service provider. Due to the increase in website performance and stability, NOWnews' page viewers and active viewers saw an increase of 50% in less than three months.