Mlytics stream
Where high-performance video streaming meets profitable scalability
Rapidly scale and enhance your streaming experience with intelligent Mid-stream CDN Switching and P2P Video Delivery.
Website operators have to take some of the blame for outages. More sites should consider using a Multi CDN strategy to reduce risk.
Michael Dorosh, Senior Director, Gartner
Free Download
Mlytics Stream Datasheet
Uncover the technology behind Mlytics Stream
Why Mlytics Stream?
Video content is king, and an uninterrupted viewing experience is the key to win your customer's heart and grow your streaming business.

With greater multimedia consumption demands and content size come greater costs.

Mlytics Stream completely eliminates poor streaming performance and potential downtime due to CDN issues, for businesses delivering video content, no matter the size or quantity.

Mlytics Stream combines peer-assist technologies with an integrated Multi CDN solution and detailed analytics to continuously retrieve video content from the most efficient source, offering video streaming providers choice and control over costs, performance and scalability when bandwidth demand spikes.
Scalable
Flexible
Data-driven
Mlytics Stream gives you the tools to profitably scale and deliver reliable, highly performant live and on-demand video experiences for viewers around the globe.
Smart switch
High-performant Mid-Stream CDN Switching
Combining integrated Multi CDN technologies with efficient traffic load balancing, Mlytics Stream offers seamless in-play orchestration based on video and CDN performance metrics to deliver the best viewer experience possible with 100% uptime.
Choice and control
Cost-saving hybrid CDN-P2P technology
Featuring advanced P2P technology and flexible policy settings, Mlytics streaming solution allows to create a high quality video experience, without overwhelming costs as CDNs are only used when the P2P network is unavailable and to allow a faster startup. Additionally, users have full control over the granularity of the video delivery.
Analytics & Data
Sophisticated data for your streaming services
Mlytics Stream collects and leverages meaningful viewer statistics, video experience and engagement data, and CDN performance insights for strategical CDN switching to eliminate buffering. Statistics including user views, location, device, and actions help you understand the state of the service and the overall performance of your content, for you to make business-critical decisions.
Flexible compatibility
Built for integration with any architecture
Mlytics streaming tools seamlessly integrate with 3rd-party video KPI platforms and allows you to bring over any CDN from your current stack, ensuring full flexibility to build an architecture around your needs.
Streaming simplified
Stream video around the world in a few clicks
Mlytics Stream is an off-the-shelf solution that can be activated as easy as toggling a switch and seamlessly integrates with your architecture, compatible with 100% HTML5 browsers, including Google Chrome, Safari, and Firefox.
Advanced tools built for seamless integration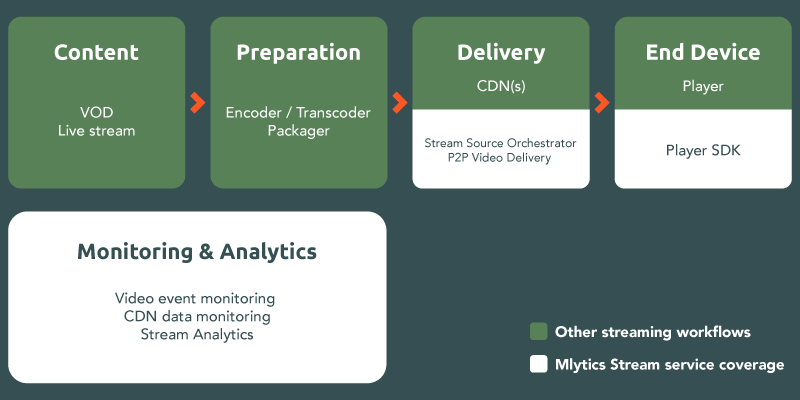 Explore more Mlytics streaming resources