Certified AWS partner
Mlytics and Amazon Web Services
The Mlytics and AWS partnership aims to offer you a fast, reliable, and secure experience for your website.
Why Mlytics and AWS cloud solutions?
The Mlytics platform seamlessly integrates with AWS Global Accelerator and CloudFront to give you unparalleled performance under the AWS ecosystem for the best website experience.
Combined differentiation
Disruptive cloud tech + massive cloud infrastructure
Include the Global Accelerator and CloudFront PoP nodes as part of your Multi CDN and intelligent load balancing strategy via the Mlytics platform.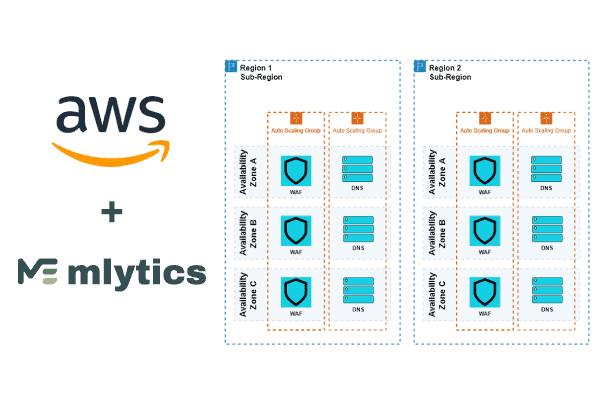 True global coverage
Your VIP pass to all AWS presence globally
The Mlytics DNS and WAF servers are deployed on multiple AWS regions and availability zones. Giving your website the speed advantage within the AWS ecosystem.
Sophisticated Origin Security
When security, performance and simplicity meet
Available from the AWS marketplace , Mlytics Origin Shield is a SaaS security service placed in front of your origin designed to help your web applications and APIs to remain fast, secured, and resilient.

Origin Shield is a comprehensive and robust security suite to protect your origin and websites. Security features include bot management, CRS rules, customizable WAF, DDoS protection, API protection, and many more.

Featuring an AI-powered Multi CDN orchestrator, content compression, persistent HTTP connection, 103 Early Hints, TLS 1.3, OSCP stapling, and other features, Mlytics Origin Shield guarantees optimal website performance and resiliency at any given time.

Origin Shield instances and CDNs can be deployed easily in just a few clicks. Users can choose to have a number of dedicated Origin Shield instances near to their origin, and can also choose various CDNs to fit their content delivery strategy.